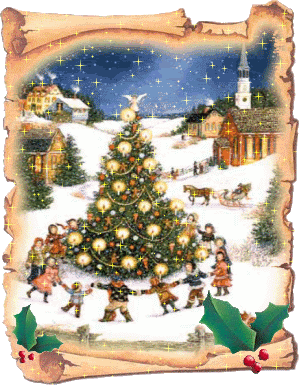 From my earliest childhood memories, I can remember the anticipation of Christmas. From writing a list from the Sears catalog that was two pages long, to having fresh fruit, especially oranges and tangerines, to eating soft peppermint sticks. The smell of pecan and pumpkin pies, turkey cooking and, for me, collards. I also could not wait to go to my grandmother's house to celebrate Christmas, with a lovely tree adorned with ornaments that had been passed down through generations, as well as funny, handmade ornaments made over the years by the kids. And the lights, oh, the lights!
My grandmother, such a lovely, petite lady, was a joy to be around. She loved life, and it showed. All of her grandchildren and great grandchildren loved her. She lived in a tiny house with two bedrooms, one bath, a larger eat-in kitchen and a moderate sized living room. It was amazing how so many people fit in one space without running into one another, but we managed. This is the same room which I learned to do a cartwheel and a handstand, first in the corner and then in the middle of the room. A place where my craziest ideas were born, and my best secrets were shared. A safe haven for me. This became more important as I grew older.
You see, I did not grow up in a 'normal' household. Until I was between seven and eight, it seemed so. Then, I was put in foster care. Back then, there was no 'family preservation' at work to help keep children in their home. I was not removed due to abuse, but because the main things a family needs—heat, gas for stove, food—my family could not provide, but not for lack of trying. I know I was loved, as much as anyone could love someone, by my parents, my grandparents and all of my aunts, uncles and cousins. I remember clearly, like it was yesterday, being torn  from my mother's leg as she cried.
Over the years, I lived in many places, but none were home. The foster families did what they could to make it joyous. I also lived in a group home for two years between 13-15 years old, before finally returning back to my parents. I did love my independence in the group home, and also the wonderful sponsors, pen pals and groups that helped us to have a good Christmas. I learned many things in these homes and for that I am appreciative and thank these people for sharing their home with a scared, lonely child and teenager.
During those years, those memories of my family, my grandmother, my cousins and all the joy we had in that one living room kept me from being depressed and feeling sorry for myself. Our past, helps mold us into who we are today. I am so thankful for the love I was given in my life, as many don't have this.
I missed many years of Christmas's with my parents and my brother, as we were separated a lot. But I can still go back in my mind to what it was like. Did we know we were poor? No we did not, we never felt poor, as we were loved.
So, back to Christmas. I love music. And yes, I really love Christmas music. One of my favorites is Air Supply, through the eyes of a child:
In the eyes of a child there is joy, there is laughter
There is hope, there is trust, a chance to shape the future
For the lessons of life there is no better teacher
Than the look in the eyes of a child
I missed out on being a child as I had to grow up pretty fast. Perhaps that's why I want to see life through the eyes of a child, with wonder and excitement. This year I set out to experience Christmas more childlike than ever. First, I rode The Polar Express. It was fun and relaxing. The children in their cute pajamas (and some moms and dads, too!). Hot cocoa and a soft, warm cookie. The story, the trip itself, the North Pole and Santa coming on the train. But the expressions on the faces of the children on my train…priceless.
Then off to Shadrack's Christmas Wonderland. While my good friend drove. I popped through the moonroof for  the best view as I took pictures. It was joyous! What's not to like about Christmas music and lights? I could have stayed all night!
And what is a Christmas tour without the Biltmore Estate? The lighted trees and gatehouse entice you before you even pass the gate! The luminaria, the candlelit home, the reflecting pool…even the restaurants and Antler Village are all adorned with beautiful Christmas lights. It is magical.
I hope you all get a chance to enjoy the Christmas lights too! Enjoy the video tour and feel free to share.
Next stop is the Arboretum…but that's for my next post!  Merry Christmas!!